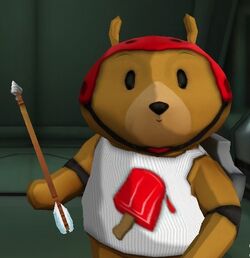 The
Arrow
is a melee weapon for the
Chub Scout
. It deals 45 damage and has a 10% Health increase. Due to its stat modifier and higher damage, it is essentially a straight upgrade from the Chub Scout's default melee weapon, the
Bow
.
It costs 110,000 Joules and has a level 10 lock.
Trusty old arrow. What say we get it stuck in someone else's leg this time?
~ Official Battle Bears Gold description
Trivia
Originally, the Arrow dealt 55 damage, the same as the Disciplinarian before it was nerfed.
It originally cost 100,000 Joules.
This arrow is probably the one that was stuck in Wil's leg in Battle Bears -1.
Despite a common misconception, the Arrow does not have shorter range than the Bow and both have the same range.
Prior to v2.6, the Arrow had no stat modifier.