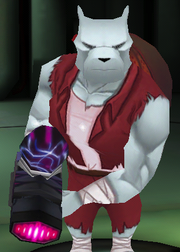 The B and J is a skin for the Heavy class, being released during the first week of v1.3.1.
This skin costs 15 Gas and does not have a level lock.
10 years have passed since Bimmy and Jimmy defeated the shadow warriors. Now they step back into the light to face off with much less ridiculous foes- pink bears full of rainbows and murderous robotic teddy bears.
~ Official Battle Bears Gold description
Appearance
The B and J skin takes the form of Riggs dressed as either Bimmy or Jimmy from the Double Dragon video game series. He is seen is tattered, torn, team coloured clothes. Riggs is wearing a sleeveless vest covering a dirty white tank and has visible, muscular arms. His shorts are equally tattered as his vest and falls just on his knees. He had bandages on his wrists and ankles.
Trivia
The B and J skin is a reference to Billy and Jimmy from the Double Dragon series, a Japanese beat 'em up video game.
Originally, the B and J skin cost 150,000 Joules, then 100,000 Joules, before being changed again to that currently seen.
Like all v1.3.1 weapons and skins, the B and J skin was offered to those who took part in the Forum Appreciation promotion, free of charge and before the official release date/week.