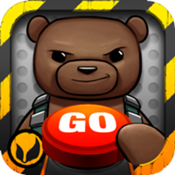 Battle Bears: GO
 is a top-down shooter (bird's-eye view), meaning players view the game a bird's eye view. It also has a two-player co-op mode. Players shoot with 3 different weapons and have lots of different power-ups to help fight off the
Huggables
. It is only available on the iPad, thought to be caused by the fact the game was too small for an iPhone/iPod Touch screen.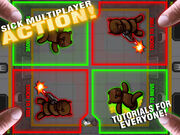 Battle Bears: GO is actually an old version of BB-1, before they made BB-1 a third-person shooter. SkyVu decided to release this version of BB-1 as another game. The game takes place in a room with three doors and ocassional gaps in the floor that players can fall into and turrets that fire rockets. Players can play as Oliver or Riggs.
There are several pickups players can get in the game, like the Bearzooka, and the Spreadshot.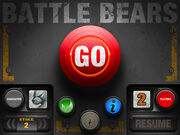 Occasionaly, players will find a room that is raining pickups. When this happens, Oliver's voice will yell "MERRY CHRISTMAS!". Players should use this room to gain a higher score or to get ready for other rooms. Although currently there is a glitch making MERRY CHRISTMAS appear more frequently.
Once the Huggables hug a player, they lose a life. Players do not have a actual amount of health and have three lives.
Gameplay
Players have to survive as many rooms as possible. Players can pause the game on the top-right corner. Players can also edit the controls and adjust the sensitivity in the pause menu. There are two types of controls:
Control 1: Move the joypad on the left to move, right to shoot and to aim.
Control 2: (not available in co-op mode) When players touch the screen with the hand that will be their moving joystick, use the other hand to tap the screen to target and double tap to shoot.
Score
A player's score depends on how many Huggables they have killed, types of Huggables, and how many points pickups they received.
A normal pink Huggable is worth 200 points.
A yellow Huggable is worth 2,000 points. A blue Huggable is worth 20,000 points.
Battle Bears: GO was the least popular Battle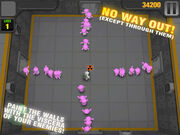 Bears game and was taken off the app store on November 24th, 2012. No re-release date has been given.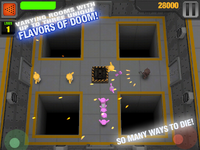 Updates
For the updates for all Battle Bears games,see Updates
| Version | Update Description | Date |
| --- | --- | --- |
| 1.0 | Battle Bears: GO | August 21st. 2010 |
| 1.1 | Improved controls. Adjusted difficulty. Minor bug fixes. | October 13th. 2010 |