Battle Bears BLAST



Removed from App Store
The Battle Bears BLAST icon

Version

1.1.2

Release Date

July 12th 2011

Takedown date

November 28th 2012

Re-release date

Friday 8 October (for 48 hours)

Price

$1.99

Seller

SKYVU PICTURES Inc.
Battle Bears BLAST is a Battle Bears mini-game developed by SkyVu Entertainment. You play as Oliver, and you must stop the Huggables from invading your territory and hugging you to death. The only weapon you have with you is a very powerful modified microwave. To stop the Huggables, you kill them with a beam from the microwave.
On November 28th 2012 it was reported that BLAST had been taken away from the App Store due to poor sales, along with Battle Bears: GO. This, however, was officially proven wrong by SkyVu Pictures on January 3rd 2013 in a FaceBook post requesting a way to find BLAST in the US App Store [1]. Instead, SkyVu confirmed that it is down for maintenance and will be re-released on Friday 4 October. Skyvu also announced that the game will be available for 48 hours, along with all the other BB games.
Gameplay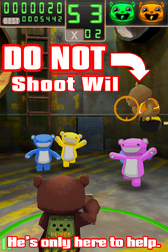 Players hold a microwave that shoots a beam at the Huggables. Players use their fingers and drag it across the screen to aim the microwave at a Huggable. Points are gained for shooting Huggables. If players kill Huggables of the same color in a row, they get extra points for a combo. All colors of Huggables act the same, except white Huggables are wild card Huggables and purple Huggables jump, allowing them to move faster. Players can also shoot a bird-like creature called a
Nuggs
, which gives them a power-up when baked.
Wil
also floats along the screen. He sometimes drops "DA BOMB" on the screen. If you bake it, it clears the screen of enemies. Players should be careful, though, because if they bake Wil or "DA BOMB" while he is holding it, they lose!
Stages
There are 4 stages for players to choose from.
Modes
60 Seconds
See how many Huggables you can destroy in 60 seconds but again, don't shoot your buddy Wil or you'll lose.
Survival
Survive as long as you can as more Huggables come to you. But don't shoot Wil who's carrying "DA BOMB" and you will lose if you hit him.
You can click on the tutorial below each mode to learn on how to play.
Trivia
Some of the songs used in this game were reused in Battle Bears Gold.
This is the first game to introduce two new coloured Huggables, white and purple.
This game also marks Nuggs' first appearence.
References
Update icons
Updates
For the updates for all Battle Bears games,see Updates
Version
Update Description
Date
1.0
Battle Bears BLAST
July 5th. 2011
1.1
New Pirate Map - the frozen pirate ship!
New Objectives!
New set of unlockable armor!
Smaller app size for 3G downlaods.
July 28th. 2011
1.1.1
Optimized new pirate map! Fixed several bugs.
August 9th. 2011
1.1.2
Minor bug fixes
October 27th. 2011