Battle Bears Gold (previously known as Battle Bears Royale and simply Battle Bears), is a third-person multiplayer shooter developed by SkyVu Entertainment, released on December 6th, 2011 as a free, ad-supported application. It is available on iOS and Android devices.
The playable characters in Battle Bears Gold are based on the characters from the entire Battle Bears series, and shares similarities to the characters of Valve's Team Fortress. On February 18th 2013, Battle Bears Gold was announced new flagship game of SkyVu Entertainment[1] and still retains this position today.
Gameplay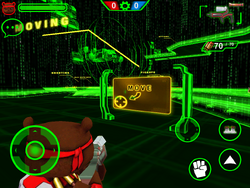 In Battle Bears Gold, the player takes the control of one of the eleven different characters (known as classes) with a large variety of weapons of choice. The players will get matched up with up to seven other players in an 8-player (or less) match with varying game modes. Matches can also be pre-planned with the use of Game Lobbies. The lobbies can be made private by requiring a password to join.
Basic controls have the player use both hands to control the character and shoot at the same time. Holding the device in landscape mode allows the player to use one thumb to move around in the map using a virtual joy-pad, while the other thumb is used to fire and aim on a second virtual joypad. Each character also has access to a melee attack for close-range combat using a separate buttonas well as a special equipment item. Finally, purchaseable Pro-Mode Features can be unlocked and used as well for an extra advantage. The player can fully customize the position of each control on the HUD.
Classes and Characters
Battle Bears Gold includes 11 different characters from the game series. Initally the player has access to 4 default classes, with the 7 remaining classes being unlockable through the 2 ingame currency types:
The first is Joules - which is acquirable by playing game matches (getting kills, picking up joules, reward at the end of the game), sharing that you've leveled up to facebook, and by purchasing using real world currency.
The second is Gas which is obtained by watching advertisements, installing apps (and possibly play the downloaded app), reading articles, filling out surveys, getting app/website memberships, purchasing using real world currency, ect.
Each character is assigned its own class, with each class having its own unique weaponry, statistics and playstyle.
Game Modes
In Battle Bears Gold, players can compete in four different online game modes:

Each game mode has different objectives for the player. While Team Battle and Free-For-All rely mostly on the individual players skill level, Plant the Bomb takes a more strategic and team-oriented approach.
Finally, the game also features a beginner-friendly Tutorial game mode where the player is introduced to the core functions of the game.
Stages
See also: Stages in Battle Bears Gold
Battle Bears Gold features 14 different stages in which players can compete in. Each stage consists of its own map layout as well as soundtrack. Click the images below to read more about each individual stage.
Each stage has various Pick-Ups placed around the map, that every player can pick up to assist them. This could, for example, be a temporary Shield or a Health Pack to restore Health. Certain stages also includes Jump Pads that will send the player flying in a certain direction to another place on the map.
Ranking and Reputation
Each player has a Skill Rating determining the players skill level. This is increased by winning games and descreased by losing games - the change in skill rating depends on a variety of factors from the game played. The skill Rating also determines the players rank, which can range from Green to Diamond. The base rating for a new player is 500.
The Reputation System is a feature in Battle Bears Gold that determines an account's in-game status. It was first introduced in version 2.4 primarily in an effort to effectively deal with an increasing number of hackers in the game. Only players logged in with a SkyVu Network account is able to rate others.
History
Battle Bears Gold is a successor of the original Battle Bears Royale, which was originally released on October 8th, 2011 in the US and December 6th, 2011 worldwide, only available on iOS. The game rapidly grew in popularity after the worldwide release, and was featured in the App Store in early 2012.
On February 18th, 2013 Battle Bears Royale was declared official flagship game of SkyVu Entertainment, having surpassed the success of the original Battle Bears Zombies and Battle Bears -1 long ago.
On May 24th, 2013, after continously lying high on the App Store charts allowing SkyVu to grow, the game got a complete revamp and was re-released on the App Store as Battle Bears Gold, shutting down the original Battle Bears Royale app.
Not long after, on June 3rd, 2013 the game was released for Android devices. And later that year, on December 20th, 2013, the game was released for Windows PC.
Reception
Battle Bears Gold kept riding the wave of success generated by Battle Bears Royale, receiving generally positive reviews from various sources. The games' ultimate approval came in the shape of 8 nominations in the 2013 Best App Ever awards for Android, where the game ultimately netted 2 first places, 2 second places and 4 honorable mentions:
| Award | Result |
| --- | --- |
| Best Action & Arcade Game | Winner[2] |
| Best Soundtrack | Winner[3] |
| Best App Ever | 2nd place[4] |
| Best Game Series | 2nd place[5] |
| Best Game Controls | Honorable mention[6] |
| Best Multiplayer | Honorable mention[7] |
| Most Addictive Game | Honorable mention[8] |
| Most Innovative Game | Honorable mention[9] |
Gallery
Icon gallery
Battle Bears Gold has had various application icons through the time. This gallery features all of them.
Video Gallery
Battle Bears Royale official game trailer,Nov 23, 2011
Battle Bears Royale update 1.3.1 - new skins demo, 16 Jun 2012.
References
↑ http://www.facebook.com/photo.php?fbid=10152582581615174&set=a.211513210173.280556.193480350173&type=1
Community content is available under
CC-BY-SA
unless otherwise noted.