You are viewing the page Battle Bears Royale. Are you looking for Battle Bears Gold?
Battle Bears
(previously known as Battle Bears Royale)
, was a third-person multiplayer shooter developed by
SkyVu Entertainment
. It is SkyVu's flagship game. It was released on December 5th, 2011 as a free ad-supported application and has remained free since then. It was available on iOS and Android.
The name was changed from Battle Bears Royale to Battle Bears in update 1.4.2.
"Due to the tremendous success of BATTLE BEARS ROYALE, we are making it our flagship game and calling it simply BATTLE BEARS in the next update."  -Ben Vu
Battle Bears was the '#1 Adventure game' on the App Store in the United States for a two-day period from July 18th 2012 to July 19th 2012.[1]
With frequent updates, new content has been continously added to Battle Bears, giving the game more variety, including new classes, stages, weapons, and skins.
On December 14th 2012, the game was released for Android devices through Google Play.
The v2.0 installment of Battle Bears Royale saw Battle Bears Gold. This took form as a completely separate app including a whole new range of content along a redesign of existing features. The original app's support was discontinued, requiring a transition between versions to be made.
Gameplay
In Battle Bears, the player takes the control of one of the seven different characters (called classes). The players will get matched up with up to seven other players in a 4 versus 4 match.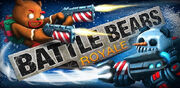 Basic controls have the player use both hands to control the character and shoot at the same time (with button or double tap). Holding the device in landscape mode allows the player to use left thumb to move around in the map using a virtual joypad, while the left thumb is used to fire and aim on a second virtual joypad. Finally, the player can use a melee attack for close-range opponents using a seperate button at the bottom of the screen as well as a Special equipment item. The steering controls can be altered through the Settings menu to four slightly different modes.
Classes and characters
Battle Bears includes 7 different classes from the game series. 3 of these are bought through in game currency - Joules. The rest are much more expensive, requiring the purchaseable and hard to obtain Gas. Each characters have been assigned to an individual class in this game to not mix them up with the rest of the series. When talking about the Battle Bears characters, people usually just refer to them as classes.
B -1000
B 1000 is an upcoming class for BBR, said to be coming in Update 2.0.
Game modes
In Battle Bears, players can compete in two different game modes: Team Battle or Plant the Bomb .
Stages
Battle Bears features 8 different stages in which players can compete in. Click the names in the following list to read more about each seperate stage:
| Stage | Picture |
| --- | --- |
| Huggable Factory | |
| Spacecraft | |
| Desert Airmine | |
| Battlefield Airpad | |
| Facing Temples | |
| Abusement Park | |
| Haunted Castle | |
| Shortest Parsec | |
| | |
Pickups
Each stage features various pickups for everyone to gather. These are the following:
| Pickup | Description |
| --- | --- |
| Bearscream Sandwich | Makes every weapon you have equipped deal 3x times the damage it normally would for 20 seconds. |
| Imperial Basket Grande | A health item that heals you half of your maximum HP. This item can make you exceed your regular HP maximum temporarily. |
| Health Pack | A health item that heals 35 HP regardless of the character. It will not exceed the characters maximum HP. |
| Shield | Grants you immortality from weapons for 10 seconds. Will not prevent you from suiciding because of natural hazards though. |
| Bonus Joules | Gives you 150 bonus Joules each time this is picked up. |
Gallery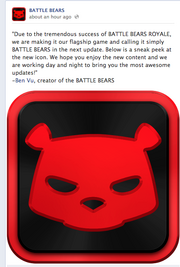 Icon gallery
Battle Bears has had various application icons through the time. This gallery features all of them.
Video gallery
References
↑ Battle Bears Royale ranking history - http://bit.ly/bbr-ranking-history
Updates
For the updates for all Battle Bears games,see Updates
Version
Added Features
Date
1.0
Battle Bears Royale
October 8th. 2011
1.1
Added Game Center, new sniper class, new weapons
November 23rd. 2011
1.1.4
Fixed crash bug.
December 5th. 2011
1.1.5
Addresses crashing and time limit issues
December 11th. 2011
1.2

Features
> 5 new holiday skins.
> Description panel for all weapons and items.
> Scoreboard now shows killer details.
> Rebalanced specific classes, weapons and equipment.
> Scoreboard and report now show player's Level and Rank.
> Added daily Joule and Gas rewards.


Fixes
> Bug Fixes!
> Tesla shield should be more effective now.
> Patched certain vulnerabilities exploited by cheaters.

December 19th. 2011
1.2.1
> Guest Accounts - You no longer need to make an account to play the game. You can still make an account to insure your data is saved and to move to new devices.

> Friendly Fire is GONE! - You still do self damage however.


> Skill system has been revamped! - Your skill rank should go up and down more reliably.


> Spawn Shield - Newly spawned players have a few seconds of invincibility.


> Assist and Kill Streak Bonuses - Get joules and XP rewards for damaging your enemies and killing multiple enemies in a row.


> Bug Fixes including working speed equipment, dead body killing and many more!

January 27th. 2012
1.2.1.1
> Fixed bugs including the one caused by the Soaker and Headlights

> Fixed Team assignment bug where players would show up on one team while actually being on the other.

February 3rd. 2012
1.3

THE UPDATE YOU'VE ALL BEEN WAITING FOR!
> NEW Class: Wil the "Chub Scout"
> NEW Game Mode: "Plant the Bomb"
> NEW Weapons for the Sniper!
> NEW Controls!
> NEW iPad 3 Support and resolution


And MANY other balance tweaks, optimizations and improvements including:
- Improved Spreadshot and Hivey League behavior.
- Improved matchmaking system
- Tweaked Skill Rating calculations
- Improved Buzz Kill
- Tweaked equipment buffs
- Ability to add nerfs and buffs to weapons and equipment!


...literally many more things that we have long since forgotten!

May 3rd. 2012
1.3.0.1
Changed one line of code to fix server error
May 11th. 2012
1.3.1
> Awesome New Map - Facing Temples
> Tons of New Weapons like the Urine Trouble & Phat Man.
> Tons of New Skins like the Pocket Pygmy & the Great Pandini.
June 28th. 2012
1.3.2
>> iPhone 5 compatible!
>> New Level: Abusement Park
>> New weapons for Soldier and Heavy classes
>> New HUD Layout with Ability to Revert
>> Skill Rating Improved!
>> Store Bundle Deals in Promos in Main Menu
>> Many Bug & Crash Fixes
August 24th. 2012
1.3.3
>NEW Haunted Castle map with interactive features!
>NEW a whole bunch of Halloween holiday skins!
>NEW migration to GREE social platform
>iPhone 5 compatible!
>NEW awesome diamond rank badge makeover!
>Bug fixes & improvements!
***Use your OpenFeint username/password to sign into GREE
October 10th. 2012

1.3.4

Fixed Abusement Park Skybox
Fixed lower body Animations In Menus
October 20st. 2012
1.4

New Class: Engineer (Graham) complete with 6 original weapons
New Skins: Holiday & Graham Skins
Tesla Shield fix, misc, bug fixes and more.
Holiday skins re-released for all classes (except Wil and Graham, who have original skins)

December. 2012
1.4.1
?
1.4.2
?
1.4.2.1
?
1.4.3

-NEW MAP: The Marecraft! Fight or die inside a giant living unicorn! The goriest battlefield ever! -NEW WEAPONS

-The Dead Eye: Astoria's strong single shot sniper rifle.

-Fairy's Dust: Astoria's magical concoction that confuses enemies and conceals movement.

-Static Shuffle: Huggable's mid-range attack! Charge up and watch electricity fly! Damage and size depend on charge length.

-Señor Potato Cannon: Wil shoots flaming spuds that explode on contact and leave piping hot french fries behind.Caution, fries do damage over time.

-Sole's Bane: Wil leaves a trail of pain with colorful mines that sure to give any opponent a sore foot.

-Gernobyl: Engineer's radioactive launcher.This mid-sized rodent shoots irradiated goop: a hit will cause radiation damage and slight physical damage, if you miss an opponent it creates a radioactive puddle- any player who steps in it will receive radiation damage.

-Improved Cloaking

-Stability & performance improvements

-Bug fixes

1.4.3.1