★★★★★ Best Games of the Year -TouchArcade
★★★★★ Top 100 iPhone Games -iLounge
"Battle Bears is a must have!" -SlideToPlay
"A survival shooter with a ridiculous story line that is almost worth the price of entry by itself." – Touch Arcade
"The story for Battle Bears is hilarious, it's one of the main reasons I kept on going through the levels." -TouchGen
"That one game that brings everything you've experienced up to that point sharply turns into focus. A gaming epiphany... Friends, I have found that game. And it is Battle Bears." -iPhoneLife.com
"This is the Pulp Fiction of iPhone games." -?
Battle Bears: Zombies is the first game SkyVu made for Battle Bears. It is available on the iOS App Store only in a paid version. No free versions are available.
Story
Battle Bear Oliver is carting away mystical treasures in a unicorn-drawn wagon in an attempt to escape the pink bears called huggables that seek to hug him to death. A wheel axle snaps, causing the cart to crash, brutally killing the unicorns. Oliver resourcefully uses the bags containing the treasures as sand bags, building a stationary defense in which to protect against the oncoming attackers, while calling in for backup from a far off squadron of Battle Bears. During the onslaught, Oliver devises improvised weapons to aid his defense, where along with huggables he is challenged by even more fearsome opponents. At one point, the Battle Bear, Sanchez, flies in piloting a Pelican't to collect Oliver in the midst of the fighting, but huggables somehow manage to get onboard and swarm the Pelican't, causing it to crash, killing him in the process. As Oliver continues holding off the unending stream of huggables, a dark temple emerges from the ground with a cloaked figure atop. It performs a kind of ritual which initiates a zombocaplypse rising, where Oliver's slayed foes rise once more in the form of zombies. At the brink of victory, Oliver is confronted by the cloaked figure who is about to hug him to death, but Battle Bear Riggs shoots it in the head and saves Oliver, immediately relinquishing the darkness as the rest of the Battle Bears come to collect him.
Gameplay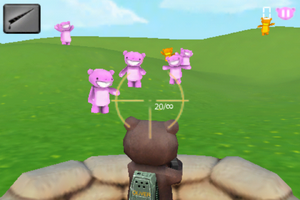 You are allowed to fire your weapon by using one thumb (first touch) to look around and aim at enemies and then using your other thumb (second touch) to fire the currently held weapon. An alternate style of gameplay is available in the 'pause' menu, which can be accessed by tapping the pink
huggable
head in the top right of the screen. You can switch to your other weapon by tapping the grey box in the top left of the screen, which holds a small, black illustration of the weapon you will change to.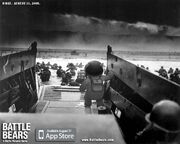 Weapons
Bosses
Other modes
Survival
Boss Trials
Zombies
Original ending
Please locate and include video
Update log
For the updates for all Battle Bears games,see Updates
Version
Update Desription
Date
1.0
Initial release
August 20th. 2009
1.1
-If you get hugged to death in Stages 4 or 5, you can now resume from the beginning of stage 4.
-New tutorial movie
-Improved performance
-New Huggable kill meter
September 19th. 2009
1.5

NEW WEAPONS (including Machine Gun & Flamethrower)·NEW BOSS LEVELS (featuring the COLBEAR & ZOMBIE BEARS) · NEW CUT SCENCE MOVIES· NEW WEAPONS MENU · NEW ORIGINAL SONGS (including the rap song, "I'M A BATTLE BEAR") · OpenFeint Leaderboards & Chat ·Soundtrack available at CDbaby.com

· Progress saved at the end of each stage
· New Credits Page
· New Boss Trial Mode

December 16th. 2009
1.5.1
1.5.1 update: Fixed OpenFeint Achievements. 1.5.0 update: NEW WEAPONS (including Machine Gun & Flamethrower)

·

NEW BOSS LEVELS (featuring the COLBEAR & ZOMBIE BEARS)

· NEW CUT SCENCE MOVIES

· NEW WEAPONS MENU

· NEW ORIGINAL SONGS by MADIX, Leck ONe., and The Business Men

· OpenFeint Leaderboards

& Chat.
December 29th. 2009
1.5.2

THIS VERSION IS ONLY RECOMMENDED FOR iPHONE OS 3.0 OR HIGHER. OS 2.0 USERS SHOULD WAIT FOR THE 1.5.3 UPDATE COMING IN THE NEXT FEW DAYS.

1.5.2 updates: Play All Cut Scenes button revealed after you beat any Story Mode. New Pause button. Adjusted Zombie difficulty for Easy Mode. New OpenFeint 2.4 with Forums, Chat, Geolocation Leaderboards. New icon featuring OLIVER.

February 22nd. 2010
1.5.3
Fixed issue with crashing on OS 2.x devices
February 25th. 2010
1.6
ZOMBIE SURVIVAL mode; PLAY MOVIES button plays every hilarious cut scene; new SHOP page featuring new BB remix and other BB products; Exclusive BATTLE BEARS -1 Game Trailer; easy access tutorial button; various bug fixes; optimized overall app size
July 1st. 2010
1.6.1
Improved sound effects and music. New OpenFeint. Minor bug fixes. Improved overall performance.
September 14th. 2010
1.6.2
New icon. New OpenFeint. New Playhaven.
April 25th. 2011
1.6.3
COMIC link added to main menu.
May 13th. 2011
1.6.4
Fixed minor bugs.
October 31st. 2011
1.6.5
Minor bug fixes
December 5th. 2011
1.6.6
Minor Bug Fixes
Now requires iOS 4.0
June 6th. 2012
1.6.7
50% OFF FOR A LIMITED TIME!

Check out our other games!
Battle Bears Royale FREE!
Battle Bears -1 50% OFF

July 20th. 2012
1.7
AR Zombie Survival Mode

Upgraded code to 64-bit for iOS 11
Reduced app size

October 19th. 2017
1.7.1
AR Zombie Mode now with Scary Clown Bosses

New Bear Traps you can deploy strategically Faster AR performance.Removal of Ads for AR mode.

October 23th. 2017