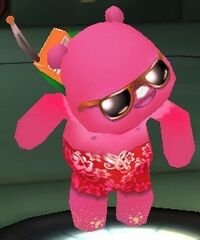 The Beach Time is a skin for the Huggable in Battle Bears Gold. It costs 15 Gas and has no level lock.
With the danger of ultra violet rays put soundly out of your mind, you are free to terrorize the beach worry free!
~ Official Battle Bears Gold description
Appearance
The Beach Time skin features the Huggable wearing what it would wear at its day at the beach. The Huggable is wearing team-colored swimming trunks, has tanlines in the shape of a shirt and a pair of tan-rimmed sunglasses. It has white residue on its nose which is a large blot of sunscreen. During a match, like all huggable skins, the Huggable carries a banner. It is unknown if the Beach Time actually features the normal pink Huggable fur, or if the pink just represents sun-burnt skin. It has a sunset-orange radio strapped to the back of its head with green tape.
Trivia
The fact that the Huggable is wearing male beach clothes suggests that it is male.
Its first name was "SPF50" (a type of sunscreen), but was changed to "Beach Time" later.
The Beach Time skin originally cost 30,000 Joules.
It was offered for one Joule during the Summer Solstice sale.
Gallery