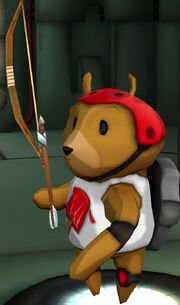 Bow and Arrow is a melee for the Chub Scout in Battle Bears Gold. It deals 55 damage, reduces movement speed by 10% and increases health by 20%.
It costs 350,000 Joules.
Wil's bow and arrow has made up and joined forces to fight against evil! Too bad Wil doesn't know how to use it still. Maybe next time..
~ Official Battle Bears Gold description
Trivia
It does the highest damage out of all of the Chub Scout's melees.