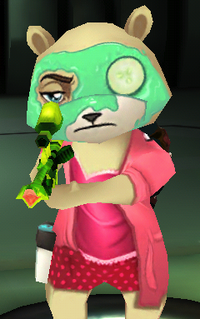 The Call Off Duty skin is a skin for the Sniper class in Battle Bears Gold.
It currently costs 25 Gas and has no level lock.
Days off are tough to wrangle for the modern working woman. Even with time to relax, Astoria's the kind of lady who takes her work home with her... and then blows the back of work's head all over the wall.
~ Official Battle Bears Gold description
Appearance
It features Astoria in a dress-up that she would wear on her day off of work. She has a mint-colored mud-mask with a cucumber piece on the left eye and nothing on the right so that she can look through the rifle scope. She's wearing a pink shirt with a light pink robe and dark pink night panties with small dots on them. Pink is changed to light blue if the player is on Team Blue. Her backpack is designed with kittens all over and her ammo-belt features a bag of ice cream.
Trivia
The skin used to cost 350 Gas until February 2013.
At one stage there was a limited offer sponsored by App Of The Day (unconfirmed) which had the skin available for 1 Joule.
Another sale during December 2012, Christmas season, also made the skin available for 1 Joule.
Call Off Duty is a pun on Call of Duty, a famous FPS (first-person shooter) game series.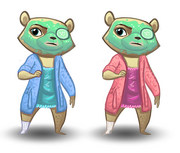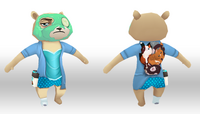 Call of Duty Wiki
You can find out more about Call of Duty here: http://callofduty.wikia.com/wiki/Call_of_Duty_Wiki