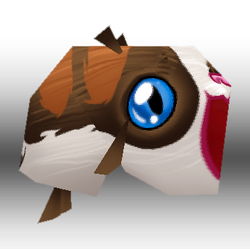 The
Catastrophe
is a melee weapon for the
Heavy
class, being released during the first week of
v1.3.1
. It deals 30 damage which can be doubled due to the second glove used in the attack. It also has a 5% speed boost.
This weapon costs 9 Gas and does not have a level lock.

Let Riggs bring the kitten cuddlin' to you! You may not like how he does it, though, and living through it isn't likely... but hey, kittens!
~ Official Battle Bears Gold description
Trivia
Previous Stats:

5% health boost, 5% health reduction
No speed modifier, 15% speed boost

Originally, the Catastrophe cost 20 Gas.
In game, the Catastrophe is misspelled "Catastophe". The name itself refers to the word "cat" in "catastrophe" and also its cat-like appearance.
Like all v1.3.1 weapons and skins, the Catastrophe was offered to those who took part in the Forum Appreciation promotion, free of charge and before the official release date/week.
It is the only Heavy melee with both a positive speed and health stat modifier