The Demo is a Class in Battle Bears Gold, featuring Tillman as a playable character. The Demo was added in version 1.0 during Battle Bears Royale.
Tillman does not have a weapon on hand that doesn't have splash damage! Throwing explosives into a group of enemies is a great way to turn the tides of a battle but be very careful to avoid hitting yourself!
Strategy
The Demo's unique melee weapons have decent damage output and can hit targets directly behind and a significant distance above the player, but compared to the weapons of other classes, these are rather slow and take around a whole second to fully utilize. Despite having double melees, the Demo's melees do not do double damage. Because of all these factors, however, the melee weapons have a very large area of effect although they cannot hit targets directly in front of the player. However the main appeal of the Demo is the all-explosive primaries and secondaries. Primaries range from wide Area of Effect 'Matter' weapons (as well one that can immobilise enemies completely), two small explosive launchers with a curved or straight trajectory, a dual version of the Bearzooka, a bouncing weapon and a column of fire. Secondaries feature rapid-fire firework weapons, a more damaging missile weapon, a weaponised firework fountain or two forms of nukes that deal massive damage in one package or two separate instances of lower damage in another depending on preference, and a manually targeted rocket that flies in a straight trajectory.
The Demo is able to take hits with a fair 170 base health but with a rather slow movement speed. This makes him rather vulnerable to faster players.
Weapons
Primary
Secondary
Melee
Skins
Generic
Special
Taunts
Quotes
Primary & Secondary Kill
"You look surprised. I MEAN DEAD! *Maniacal laughter*"
"You sure scream a lot when you're dying!"
"Yippi-KI-yay!"
Melee Kill
"Was it good for you, too?"
"Walk it off, ya nancy!"
"Really, that was it?"
Damaged
"You call that PAIN?!"
"I've had worse!"
Death
"But I'm not done... killing..."
"You MISSED! Wait a second..."
Victory
Defeat
"That wasn't bad!"
"Maybe next time I won't go so easy on you."
"The sun was in my eyes!"
Pick-Ups
Teamspeak
Follow Me: "On me!"
Help me out!: "I'm taking too much heat!"
Attack my target: "Hold still!"
Incoming!: "Run away!"
Woo-hoo!: "Tillman gonna give it to ya, we gonna give it to ya!"
Trivia
The Demo used to cost 15,000 Joules until v1.4.
Although the Demo has no other indication of being even partly organic, he has pink and red flesh as revealed when he is gibbed in-game.
The Demo, along with the Chub Scout, has the most skins of all classes with a total of 18.
Gallery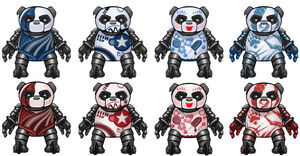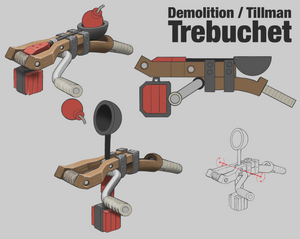 Community content is available under
CC-BY-SA
unless otherwise noted.