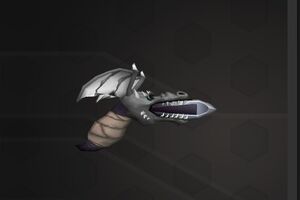 The Dragon Slayzer is a unique weapon for Oliver in Battle Bears Overclock.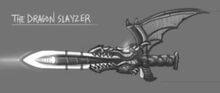 Apperance
The Dragon Slayzer is a dragon with a sword coming out of its head. The laser, which the dragon fires, is an orange blast. The dragon's color is red. The sword and handle are grey.
Usage
The Dragon Slayzer fires a straight-moving laser that explodes on contact. The Dragon Slayzer deals splash damage to any enemy within range, and also deals additional damage on a direct hit.
Stats
| Cost | Damage | Clip Size | RoF | Reload |
| --- | --- | --- | --- | --- |
| 100 Gems | 150 | 2 | 1.5 | 3.5 |