Drain Field



Class

Type

Secondary

Level Required

20

Price

55 Gas

Damage

35.0/s

Healing

20.0 per 1.5s

Ammo

1.0

Reload

4.5s

Projectile Speed

800 u/s

See: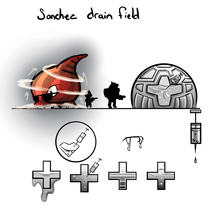 Drain Field is a secondary weapon for the Arbiter in Battle Bears Gold, released in the v2.16.
Toss this sucker at the nearest enemy and watch as his life force is drained from him and transferred to you!
~Official Battle Bears Gold Description
Usage
When used, the Arbiter will toss the fish-like creature that flies in an arc. When it makes contact with any solid surface, a dark field will be formed with bats in it. Any opponent that is in its range will take damage, and their lost health will be transferred to the user. The user will not receive overheal from the Drain Field.
Trivia
This is the first weapon to have a life-draining function.
This weapon is different from the other field weapons, as the other fields are formed around the user while the Drain Field won't.
The field formed appears to be a projection of a live creature wearing sunglasses.
It is possible to gain health when drain field affects an opponent who has a shield. However, the opponent will not take damage.