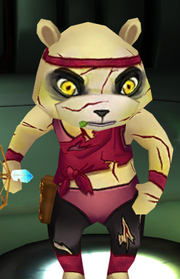 Exercisist is a skin in Battle Bears Gold for the Sniper class. It was only available in the period from October 10th, 2012 through October 31st 2012 as part of the special Halloween release of Battle Bears Royale in 2012, also featuring special Halloween skins for every other class available at that time. It was re-released in v2.4 as part of the Halloween-themed update.
It costs 50 Gas and has no level lock. 
Have you heard of the latest craze in weight loss? Eat a whole satan and puke up your guts all over a clergyman! The results are instant!
~ Official Battle Bears Gold description
Appearance
The Exercisist skin features Astoria dressed up as the exorcist from the famous 1971 novel The Exorcist by William Peter Blatty. The design of the skin is most presumeably based on the character from the filmification of The Exorcist.
It features Astoria in a shredded bordeaux shirt with black and bordeaux pants, a bordeaux headband and bare-footed. Her yellow eyes are open wide with large smudge of black around them. Her entire body is covered in scars.
Her backpack is pink and not as bruised as the rest of her body. Her ammo case is designed like a brown book with a crucifix (cross) on it. 
Trivia
The name "Exercisist" is a pun on the 1973 movie title The Exorcist, though an actual exercist is a well trained individual known for exercising a lot.
This skin was discontinued on October 31st, 2012.
Gallery
Read more
Community content is available under
CC-BY-SA
unless otherwise noted.