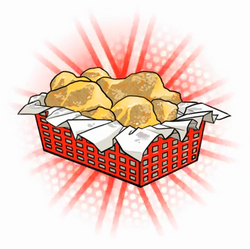 The Imperial Basket Grande appears as a Pickup in Battle Bears Gold. It heals a player by 50% (rounded) of their maximum Health (includes all Health boosting equips). Unlike the Health Pack, it can heal beyond a player's maximum health and can reach up to 200% (equivalent to 2 Grandes) of the player's health if enough are collected. They take 60 seconds to respawn. If collected while the player has full health, the Grande will add additional health not shown on the health bar. Once the player reaches the 200% health limit, the Grandes that he or she collects will not give the user more health unless he takes damage beforehand.
Locations
Map
Location
Number
No Bear's Land
Behind the food stand at the left corner of each spawn point
2
Desert Airmine
Atop the windmill tower
1
Space Oddity
Under the middle area of the long decks crossing between each spawn point
2
H.I.P. Test Lab
Atop the crates at the center of the map
2
Aztec Attack
In front of a block to the right of each temple
2
Abusement Park

Beside the ramp leading out of red's spawn point
At the "exit" above a flight of steps

2
Haunted Castle
Inside brief structures atop the battlements left and right of the main area
2
Shortest Parsec
At the far corner of the meteor tower
1
Marecraft
Under the bridge connecting the two team's spawn points
1
Sky View
At the top of one of the ramps near the center
2
Skate or Die

Beside the ramp located near the pillar with the shield pickup
In the corner of a raised flat area on the edge of the map

2
Gold Digger
On a raised area near the shield pickup
2
Toxic Terror
To the side of the central tree
1
Frozen Pundra
At the top and bottom corners of the map
2
Battle Bears -1
The Imperial Basket was first shown in a gag cutscene as an "advertisement" preceding the Spaceboss battle in Battle Bears -1.
Ease your hunger with 3 pounds of deep fried pain, pain, pain! Introducing the Imperial Basket Grande: A massive gristle, inexplicably fried in three heart-stopping pounds of your worst nightmare! It'll put hair on your chest and give you the strength of fourteen hypersharks, hypersharks! The Imperial Basket Grande - the gristle that grizzles grizzles grizzles! Warning: if you eat the Imperial Basket Grande on an empty stomach, you will die.
~ Battle Bears -1 comical advertisment
Trivia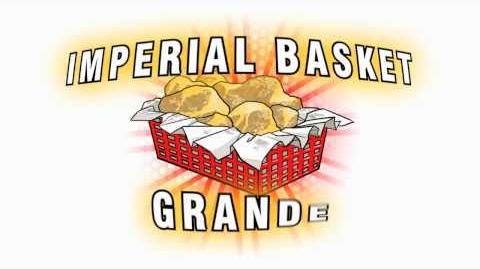 A "trailer" for the Imperial Basket Grande was released on September 23rd 2010 on YouTube, which is seen in the game Battle Bears -1. The trailer can be seen on the left.