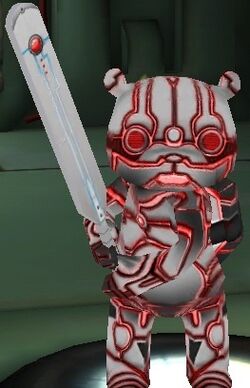 The Krikkit Bat is a melee weapon for the Soldier class, being one of the original three melee weapons. It deals 45 damage and has a Stat Modifier of +20% Special Speed.
This weapon costs 30,000 Joules and has a level 11 lock.
Authorized for use in Brockian Ultra-Cricket - Remember: The winning team shall be the first team that wins.
~ Official Battle Bears Gold description
Trivia
The name "Krikkit Bat" is a pun on "Cricket Bat". All the Soldier's melee weapons with the exception of the Kumakiri resemble cricket bats.
Originally, the Krikkit Bat cost 75,000 Joules, then 60,000 Joules, before being reduced again to that currently seen.