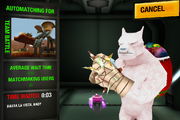 These are the comments that appear in
Battle Bears Gold
when the player is on the matchmaking screen, just before the match/battle begins. The content of the comment varies and is refreshed every ten seconds that the player has been waiting for a match, and the new comment that comes up is picked at random.
There are very many different quotes and comments, so it may not even be possible to list them all here.
The comments appear in the bottom left of the screen.
Note: The person "dnomn8r" is referenced several times. He is legitimate and was the one who collected all the quotes for the game.
| | |
| --- | --- |
| Quote: | <COMMENT DELETED BY ADMINISTRATOR> |
| Origin: | A typical message around the internet posted in edited messages containing offensive, abusive or otherwise inappropriate content. |
| | |
| --- | --- |
| Quote: | AIN'T SO FUNNY MEOW IS IT? |
| Origin: | A famous quote from the movie Super Troopers spoken by character Foster. |
| | |
| --- | --- |
| Quote: | I SEE DEAD PEOPLE |
| Origin: | A famous line spoken by the character Cole Sear in the movie The Sixth Sense. |
| | |
| --- | --- |
| Quote: | THIS IS SPARTA! |
| Origin: | A famous line spoken by Leonidas, played by Gerard Butler in the movie 300, also a popular internet quote. |
| | |
| --- | --- |
| Quote: | IT'S JUST A FLESH WOUND! |
| Origin: | Spoken by Liam Neeson as Bryan Mills in the 2008 movie Taken... after he shot another man's wife in the arm. Also a quote used by Riggs when injured. It was also famously used by the Black Knight from the British surreal comedy, Monty Python. |
| | |
| --- | --- |
| Quote: | NO ONE EXPECTS THE SPANISH INQUISITION |
| Origin: | A popular principal catchphrase from the series of sketches in Monte Python's Flying Circus from 1970, from the episode The Spanish inquisition. |
| | |
| --- | --- |
| Quote: | KEEP YOUR FRIENDS CLOSE, AND YOUR ENEMIES CLOSER |
| Origin: | A world famous quote from Chinese general and military strategist Sun-tzu (~400 B.C.). Made famous in the movie Godfather II. |
| | |
| --- | --- |
| Quote: | NEVER SEND A HUMAN TO DO A MACHINE'S JOB |
| Origin: | The reverse of the quote Never send a machine to do Human's job. |
| | |
| --- | --- |
| Quote: | YOU HAVE CHOSEN... WISELY |
| Origin: | A quote from the film Indiana Jones and the Last Crusade after Indiana chooses the right Holy Grail to drink from. |
| | |
| --- | --- |
| Quote: | HE HAS CHOSEN... POORLY |
| Origin: | A change of the quote "He chose.....poorly" from the film Indiana Jones and the Last Crusade, when the antagonist Donovan perishes after drinking from a false Holy Grail. |
| | |
| --- | --- |
| Quote: | I WILL NOT BUY THIS RECORD, IT IS SCRATCHED |
| Origin: | A quote from the sketch Dirty Hungarian Phrasebook of the 1970s series Monty Python's Flying Circus. |
| | |
| --- | --- |
| Quote: | MY HOVERCRAFT IS FULL OF EELS |
| Origin: | Another quote from the sketch Dirty Hungarian Phrasebook of the 1970s series Monty Python's Flying Circus. |
| | |
| --- | --- |
| Quote: | ENHANCE YOUR CALM - JOHN SPARTAN |
| Origin: | Phrase used by the character John Spartan in the 1993 film Demolition Man. |
| | |
| --- | --- |
| Quote: | AWW 20 DOLLARS...... :( BUT I WANTED A PEANUT! |
| Origin: | Spoken by Homer Simpson in season 5 episode 8 from the popular american cult-cartoon The Simpsons, in a conversation with his own brain. |
| | |
| --- | --- |
| Quote: | GO GO POWER RANGERS! |
| Origin: | Quote from the series Power Rangers. |
| | |
| --- | --- |
| Quote: | REMEMBER WHEN I SAID I'D KILL YOU LAST? I LIED. |
| Origin: | Quote from 1985 movie Commando, starring Arnold Schwarzenegger. |
| | |
| --- | --- |
| Quote: | THERE IS A SECRET IN THIS GAME |
| Origin: | A hint that there is a secret in this game.  It points to the fact that there are indeed two secret achievements in the game. |
| | |
| --- | --- |
| Quote: | THEY'RE EATING HER. AND THEN THEY'RE GOING TO EAT ME! |
| Origin: | A quote from the film 1990 Troll 2, widely considered one of the worst films of all time, even getting a complete 0% rating on the popular movie review website Rotten Tomatoes. |
| | |
| --- | --- |
| Quote: | NOT LIKE THIS... NOT LIKE THIS... |
| Origin: | A quote sproken by character Switch in the 1990 film The Matrix. |
| | |
| --- | --- |
| Quote: | HE DOESN'T LIKE YOU. I DON'T LIKE YOU EITHER. |
| Origin: | Another exchange between Luke Skywalker and Dr. Evazan. |
| | |
| --- | --- |
| Quote: | WE'RE UNDER ATTACK BY COMMIE NAZIS |
| Origin: | A quote from The Simpsons said by Rainier Wolfcastle in his fictional movie McBain. |
| | |
| --- | --- |
| Quote: | A BOWL. I GOT A BOWL. GOOD FOR ME! |
| Origin: | A quote from the series Freakazoid! |
| | |
| --- | --- |
| Quote: | I DON'T KNOW, I MOSTLY JUST HURT PEOPLE |
| Origin: | A quote from the 1997 movie Alien Resurrection. |
| | |
| --- | --- |
| Quote: | YOU SPOONY BARD! |
| Origin: | A quote from the video game Final Fantasy IV.  It is said at a post-bombed Damcyan by Tellah, who is insulting a bard who survived the bombing because he is angered by the death of his daughter. |
| | |
| --- | --- |
| Quote: | TOTO, I DON'T THINK WE'RE IN KANSAS ANYMORE |
| Origin: | A quote by Dorothy from the 1939 classic movie The Wizard of Oz as she and her dog Toto land in the Land of Oz. |
| | |
| --- | --- |
| Quote: | KLAATU BARADA NI(COUGH)(COUGH) |
| Origin: | A quote from the movie Army Of Darkness. |
| | |
| --- | --- |
| Quote: | I LOVE THE SMELL OF NAPALM IN THE MORNING |
| Origin: | A quote from antagonist Seargent Kilgore from the Vietnam War movie Apocalypse Now. |
| | |
| --- | --- |
| Quote: | TO SEE THEM DRIVEN BEFORE YOU |
| Origin: | A partial quote from the original 1982 film Conan the Barbarian, which is a part of the quote "To crush your enemies, see them driven before you, to hear the lamentation of their women." |
| | |
| --- | --- |
| Quote: | I'VE GOT GOOD NEWS... IS IT ABOUT PIES? |
| Origin: | A quote from the simpsons episode where Homer becomes a sculptor after screwing up his barbeque. |
| | |
| --- | --- |
| Quote: | THE LONDON UNDERGROUND IS NOT A POLITICAL MOVEMENT! |
| Origin: | A quote from the movie A Fish Called Wanda, as part of the quote "Aristotle was not Belgian! The central message of Buddhism is not "Every man for himself!" And the London Underground is not a political movement! Those are all mistakes, I looked them up." |
| | |
| --- | --- |
| Quote: | I'LL MISS YOU MOM |
| Origin: | An homage to dnomn8r's(Frano Sailer) mom, who passed away during the making of this game. |
| | |
| --- | --- |
| Quote: | TO HEAR THE LAMENTATION OF THEIR WOMEN |
| Origin: | Another quote from Conan the Barbarian, which is said after "To see them driven before you". |
| | |
| --- | --- |
| Quote: | DIPLOMATIC IMMUNITY... HAS JUST BEEN REVOKED |
| Origin: | From the 1989 movie Lethal Weapon 2 after the main protagonist shoots a corrupt South African diplomat who cannot be arrested due to his diplomatic immunity. |
| | |
| --- | --- |
| Quote: | DO A BARREL ROLL! |
| Origin: | A popular Internet meme originating from the 1997 video game Star Fox 64. This quote is probably included due to the fact that it gained popularity after the Google Easter Egg Do a barrel roll. |
| | |
| --- | --- |
| Quote: | BIG BROTHER IS WATCHING YOU |
| Origin: | Yet another quote from the novel 1984 by George Orwell. This phrase is also commonly used to describe oppressive (also known as Orwellian) governments who constantly monitor their citizens. |
| | |
| --- | --- |
| Quote: | JUNE 29TH, 2012 |
| Origin: | The day dnomn8r (Lead Programmer for the game) was married. |
| | |
| --- | --- |
| Quote: | MR. AAAAANDERSON |
| Origin: | A quote from "The Matrix: Revolutions" where the primary antagonist, "Agent Smith" is taunting the protagonist, "Neo". |
| | |
| --- | --- |
| Quote: | FREEDOM IS SLAVERY |
| Origin: | A quote from the famous 1940s book '1984' by George Orwell. This quote is part of the trifecta "War is peace. Freedom is slavery. Ignorance is strength", which are the main principles of the oppressive government of Oceania. |
| | |
| --- | --- |
| Quote: | WAR IS PEACE |
| Origin: | Another quote from the novel 1984 by George Orwell. |
| | |
| --- | --- |
| Quote: | IGNORANCE IS STRENGTH |
| Origin: | See above. |
| | |
| --- | --- |
| Quote: | YOUR FATHER SMELT OF ELDERBERRIES |
| Origin: | Another quote from Monty Python and the Holy Grail, said as an insult by a French Guard. |
| | |
| --- | --- |
| Quote: | DENTAL PLAN, LISA NEEDS BRACES! |
| Origin: | A quote from the Simpsons episode Last Exit to Springfield. The phrase has grown greatly in popularity since the episode, as seen here. |
| | |
| --- | --- |
| Quote: | MULTIPASS... MUL-TI-PASS |
| Origin: | An exchange between Leelo and Korben Dallas in the 1997 film The Fifth Element. |
| | |
| --- | --- |
| Quote: | JOZIN Z BAZIN |
| Origin: | A very popular song by Czech musician and comedian Ivan Mladek, which has become his best-known song. It has become very popular in Poland, Russia and Hungary. |
| | |
| --- | --- |
| Quote: | SANKA? YA DEAD? YA MON... |
| Origin: | An exchange from the 1993 film Cool Runnings, a movie about a Jamaican bobsled team in the 1988 Winter Olympics. |
| | |
| --- | --- |
| Quote: | YOU WANT THE TRUTH? YOU CAN'T HANDLE THE TRUTH! |
| Origin: | A quote from the 1992 movie A Few Good Men, starring Tom Cruise as a lawyer uncovering a major military conspiracy. |
| | |
| --- | --- |
| Quote: | WHY A SPOON COUSIN? CAUSE IT'LL HURT MORE! |
| Origin: | An exchange between the Guy of Gisborne and the Sheriff of Nottingham in the 1991 movie Robin Hood: Prince of Thieves as the Sheriff is about to cut out Robin's heart with a spoon. |
| | |
| --- | --- |
| Quote: | TO CRUSH YOUR ENEMIES |
| Origin: | The first part of the trifecta "To crush your enemies. To see them driven before you and to hear the lamentation of their women" from the 1982 original film the Barbarian Conan the Barbarian. |
| | |
| --- | --- |
| Quote: | MEOW? |
| Origin: | Something dnomn8r (Lead Programmer of the game) tends to say a lot at the office. |
| | |
| --- | --- |
| Quote: | BUTT ER IS DELICIOUS |
| Origin: | Quote requestes by Michael Kingery. |
| | |
| --- | --- |
| Quote: | I KNOW KUNG FU |
| Origin: | A popular quote from the 1999 film The Matrix. This phrase has since gained popularity and been used by characters when they are threatened. |
| | |
| --- | --- |
| Quote: | EXCUUUUSE MEEE PRINCESS |
| Origin: | A quote by protagonist Link in the television series The Legend of Zelda. |
| | |
| --- | --- |
| Quote: | KEEP FIT AND HAVE FUN BODY BREAK! |
| Origin: | A quote from the 90-second television series Body Break by ParticipACTION. |
| | |
| --- | --- |
| Quote: | ADRIANE!!! |
| Origin: | The name Rocky Balboa screams out after his first fight with Appollo Creed. |
| | |
| --- | --- |
| Quote: | GET READY FOR SOME CHOP! |
| Origin: | Quote from Aliens, and also from Starcraft (which copied Aliens) |
| | |
| --- | --- |
| Quote: | I RECOMMEND WE FIRE PHASERS |
| Origin: | A quote by Lieutenant Commander Worf on many occasions. |
| | |
| --- | --- |
| Quote: | ON CLOSER INSPECTION, THESE ARE LOAFERS |
| Origin: | A quote from the Simpsons episode A Star Is Burns. |
| | |
| --- | --- |
| Quote: | THAT'S IT! BACK TO WINNIPEG! |
| Origin: | A quote by Nelson from the Simpsons episode Bart on the Road. |
| | |
| --- | --- |
| Quote: | CARE BEAR COUNTDOWN... 5..4..3..2..1..! |
| Origin: | The lyrics of a song from the Care Bears franchise |
| | |
| --- | --- |
| Quote: | YOU'RE GONNA NEED A BIGGER BOAT |
| Origin: | A famous quote from the 1975 Steven Spielberg classic Jaws. |
| | |
| --- | --- |
| Quote: | WHO IS YOUR DADDY AND WHAT DOES HE DO? |
| Origin: | A quote by Arnold Schwarzenegger in the 1990 film Kindergarten Cop. |
| | |
| --- | --- |
| Quote: | THE SLEEPER HAS AWOKEN |
| Origin: | From the movie, and book "Dune". |
| | |
| --- | --- |
| Quote: | THAT'S IT! NO SOUP FOR YOU! |
| Origin: | A quote from The Soup Nazi, the 116th episode of the sitcom Seinfeld. |
| | |
| --- | --- |
| Quote: | WHO CONTROLS THE SPICE CONTROLS THE UNIVERSE |
| Origin: | A quote from the 1984 film Dune. |
| | |
| --- | --- |
| Quote: | I MUST BREAK YOU |
| Origin: | A quote from stereotypical Russian boxer Ivan Drago from the 1985 film Rocky IV. |
| | |
| --- | --- |
| Quote: | STOP TRYING TO HIT ME AND HIT ME! |
| Origin: | A quote by Morpheus in the 1999 film The Matrix. |
| | |
| --- | --- |
| Quote: | BLESSED ARE THE CHEESEMAKERS |
| Origin: | A quote from the 1979 film Life of Brian. |
| | |
| --- | --- |
| Quote: | YOU SHALL NOT PASS! |
| Origin: | A famous quote by Gandalf from The Fellowship of the Rings, which has since become a popular Internet meme. The quote's first use was by a French officer during an attack by German forces in World War I. |
| | |
| --- | --- |
| Quote: | JAN 25TH 1981 |
| Origin: | The date of birth of dnomn8r's wife. |
| | |
| --- | --- |
| Quote: | SWEEP THE LEG JOHNNY! |
| Origin: | A quote from the original 1984 film The Karate Kid. |
| | |
| --- | --- |
| Quote: | EVERYBODY KNOWS... THE DICE ARE LOADED |
| Origin: | See above for song. |
| | |
| --- | --- |
| Quote: | I AIN'T GOT TIME TO BLEED |
| Origin: | A quote by a soldier in the 1987 film Predator after he is injured. |
| | |
| --- | --- |
| Quote: | IS IT HEAVY?   YES.   THEN IT'S EXPENSIVE, PUT IT BACK |
| Origin: | A quote from the 1993 film Jurassic Park. |
| | |
| --- | --- |
| Quote: | DOUBLE RAINBOW! ACROSS THE SKY |
| Origin: | A quote from the hilarious double rainbow youtube video. |
| | |
| --- | --- |
| Quote: | HE HAS THE EMOTIONAL RANGE OF A TEASPOON |
| Origin: | A quote by Hermoine from the Harry Potter novel Harry Potter and the Order of the Phoenix, a rephrase of the actual quote "Just because you have the emotional range of a teaspoon doesn't mean we all have". |
| | |
| --- | --- |
| Quote: | IT WAS THE BEST OF TIMES, IT WAS THE BLURST OF TIMES |
| Origin: | A quote from the Simpsons episode Last Exit to Springfield, when Homer reads a play written by typewriting monkeys. |
| | |
| --- | --- |
| Quote: | CAPABLE/ RUNT |
| Origin: | (Place origin here)  |
| | |
| --- | --- |
| Quote: | LOOK AT ME... I'M A SNAAAKE |
| Origin: | Reference to an obscure Youtube video. |
| | |
| --- | --- |
| Quote: | UP AND AT THEM! UP AND AT THEM! |
| Origin: | A quote by Rainier Wolfcastle in the Simpsons episode Radioactive Man. |
| | |
| --- | --- |
| Quote: | THERE CAN BE ONLY ONE |
| Origin: | A quote from the 1986 cult classic Highlander |
| | |
| --- | --- |
| Quote: | I HAVE THE SWORD OF A THOUSAND TRUTHS |
| Origin: | A quote from South Park episode Make Love, Not Warcraft, with a reference to World of Warcraft. |
| | |
| --- | --- |
| Quote: | SOMEONE GET THIS WALKING CARPET OUT OF MY WAY |
| Origin: | A quote by Princess Leia in Star Wars Episode IV: A New Hope, telling Luke and Han to get Chewbacca out of her way. |
| | |
| --- | --- |
| Quote: | YOU CAN'T FIGHT IN HERE THIS IS THE WAR ROOM! |
| Origin: | A quote from the 1964 black comedy film Dr. Strangelove. Note the use of irony. |
| | |
| --- | --- |
| Quote: | HE'S NOT HUMAN, HE'S LIKE A PIECE OF IRON |
| Origin: | A remark by Ivan Drago in the 1985 film Rocky IV referring to Rocky Balboa. |
| | |
| --- | --- |
| Quote: | I WILL NOT FEAR, FOR FEAR IS THE MIND KILLER |
| Origin: | A quote from the 1984 film Dune a film adaptation of the novel of the 1965 of the same name. |
| | |
| --- | --- |
| Quote: | TROGDOR! BURNINATING THE COUNTRYSIDE! |
| Origin: | Trogdor!!! Probably the first meme ever on the internet. |
| | |
| --- | --- |
| Quote: | THEY MOSTLY COME OUT AT NIGHT... MOSTLY |
| Origin: | A quote from the 1986 film Aliens, sequel to the famous film Alien |
| | |
| --- | --- |
| Quote: | HE DOESN'T KNOW HOW TO USE THE THREE SEASHELLS |
| Origin: | From the 1993 movie Demolition Man |
| | |
| --- | --- |
| Quote: | DEC 4TH 1980 |
| Origin: | The date of birth of dnomn8r. |
| | |
| --- | --- |
| Quote: | I'D BUY THAT FOR A DOLLAR! |
| Origin: | A quote from a fictional advertisement from the 1987 original RoboCop. |
| | |
| --- | --- |
| Quote: | IN SOVIET RUSSIA, CAR DRIVE YOU! |
| Origin: | A quote by Ukrainian-born American comedian  Yakov Smirnoff, commenting on the stark differences between his previous life in the Soviet Union in the 1980s to his life in the United States. It has since become a popular Internet meme, as seen here. |
| | |
| --- | --- |
| Quote: | NICE PAR, DAVID |
| Origin: | A quote from the 1996 television series Tin Cup. |
| | |
| --- | --- |
| Quote: | BASEBALL WRONG, MAN WITH FOUR BALLS CANNOT WALK |
| Origin: | A quote from the game "Shadow Warrior", referring to the fact that man with four balls would have trouble walking. |
| | |
| --- | --- |
| Quote: | RUN FORREST RUN! |
| Origin: | A well-known quote from the 1994 film Forrest Gump. |
| | |
| --- | --- |
| Quote: | THAT'S NO MOON THAT'S A SPACE STATION |
| Origin: | A quote from Star Wars IV: A New Hope. |
| | |
| --- | --- |
| Quote: | NEXT TIME GADGET... NEXT TIME! |
| Origin: | A quote from the TV series Inspector Gadget. |
| | |
| --- | --- |
| Quote: | TO BE OR NOT TO BE... NOT TO BE |
| Origin: | A great quote from the movie withing a movie in the movie Last Action Hero. |
| | |
| --- | --- |
| Quote: | QUAID... QUAID... YOU MUST FREE MARS |
| Origin: | A quote from the original Total Recall]. |
| | |
| --- | --- |
| Quote: | WE'RE IN THE PIPE, FIVE BY FIVE |
| Origin: | A quote from many places, see here. |
| | |
| --- | --- |
| Quote: | WE MUST FLEE... TO TIRAS LEE! |
| Origin: | From the movie Willow! |
| | |
| --- | --- |
| Quote: | SEE YOU AT THE PARTY RICHTER |
| Origin: | A quote from the movie Total Recall. |
| | |
| --- | --- |
| Quote: | I'M A MASTER OF THE ART OF LLAP-GOCH |
| Origin: | Monty Python quote. |
| | |
| --- | --- |
| Quote: | SOVEREIGN WILL BE MADE ONE DAY! |
| Origin: | dnomn8r says this will remain a secret... for now. |
| | |
| --- | --- |
| Quote: | THE GOGGLES DO NOTHING! |
| Origin: | A quote from a Simpsons episode. |
| | |
| --- | --- |
| Quote: | SO LONG, AND THANKS FOR ALL THE FISH |
| Origin: | The title of a book by Douglas Adams. |
| | |
| --- | --- |
| Quote: | YOU DON'T WIN FRIENDS WITH SALAD |
| Origin: | A quote from the Simpsons episode Lisa the Vegetarian. |
| | |
| --- | --- |
| Quote: | THANK YOU, BUT OUR PRINCESS IS IN ANOTHER CASTLE |
| Origin: | A quote from the original Mario games. |
| | |
| --- | --- |
| Quote: | LET OFF SOME STEAM, BENNY! |
| Origin: | A rephrasing of the quote "Let off some steam, Bennett!" from the 1985 film Commando. |
| | |
| --- | --- |
| Quote: | SPIDER PIG, SPIDER PIG, DOES WHATEVER A SPIDER PIG DOES |
| Origin: | Lyrics from the song Spider Pig from The Simpsons Movie, when Homer holds Plopper the Pig up to the ceiling. |
| | |
| --- | --- |
| Quote: | ARROW TO THE KNEE ENDED MY ADVENTURING DAYS |
| Origin: | A well-known quote from Skyrim: The Elder Scrolls V. |
| | |
| --- | --- |
| Quote: | WHAT ARE WE GOING TO DO TONIGHT, BRAIN? |
| Origin: | A quote from the TV series Pinky and the Brain. |
| | |
| --- | --- |
| Quote: | ALWAYS LOOK ON THE BRIGHT SIDE OF LIFE |
| Origin: | A song from Monty Python's "Meaning of Life" |
| | |
| --- | --- |
| Quote: | THE ONLY THING YOU HAVE TO FEAR, IS FEAR ITSELF |
| Origin: | A quote from Franklin D. Roosevelt's first inaugural address. |