For the weapons in Battle Bears Gold, see Minigun (Soldier) or Minigun (Combat Tech).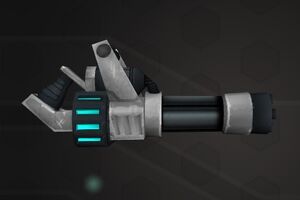 The Minigun is a weapon in Battle Bears Overclock. It is Riggs' main type of weapon.
Usage
The Heavy fires fast-travelling bullets in a rapid, continuous burst of fire aided by a reliable and medium-ranged auto-aim function. It has an extremely high ammo count and high damage output.
Due to the weapon's effectiveness at close range coupled with its mobility restriction, it is advised to adopt an ambush-style tactic if you plan to use this as your main form of attack by strictly avoiding wide open spaces. Using this as a backup option in an emergency is possible, although this is complicated by the weapon's wind-up and the difficulty it poses when you're attempting to retreat from an attack, in exchange for a slightly higher damage output. Also, given its high ammo count, it is most likely intended to serve as the main form of attack for players using it.
Variants
As with all other standard weapons in Battle Bears Overclock, the Heavy has several variants, each with their own statistics.
Community content is available under
CC-BY-SA
unless otherwise noted.