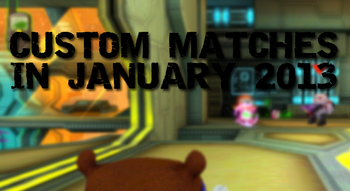 What you've all been waiting for in Battle Bears Royale is coming very soon. Of course I'm talking about custom matches! This was announced on December 1st 2012 by none other than Ben Vu himself through the official Battle Bears Royale fan group on Facebook.
By Gnifle, December 9th, 2012 @ 1.51pm CEST
Battle Bears Royale will finally receive the ability create custom matches for players who want to make sure they're playing together. As mentioned, this was revealed by Ben Vu (owner and CEO at SkyVu Entertainment) through the Battle Bears Royale facebook group.
As stated in the post, SkyVu will first finish off the Android version of Battle Bears Royale, and then start focusing on the private arena system. And as the beta-testing for Android devices are currently taking place right now, it shouldn't be long before we start receiving news on the new custom matchmaking system.
Great expectations
So what are we to expect of this brand new matchmaking feature? It could either be a simple system allowing players to be 100 % certain to end up in the same match, but even better - it could be a system allowing players to choose everything from teams, team color, stage and maybe even match time. This is all speculations though, and nothing has been officially announced.
So what possibilities could this grant us?
A feature like this has been requested for a long time, to make it possible to battle between clans and individual players. Depending on the complexity of the system, it might be possible to have clan wars to decide who is the better clan. External rank systems for these kinds of battles are already underwway among the fanbase.
But more importantly, this will actually allow SkyVu to have their very first official Battle Bears Royale World Championship. Now how does this sound? Sweet, right?
No matter what happens, I can't wait to finally have battles with my best BBR friends! How about you - what do you think about this feature? Are you gonna use it - or maybe even participate in a possible world championship? Feel free to leave comments, additions, questions and the like in the comment section below! ^^