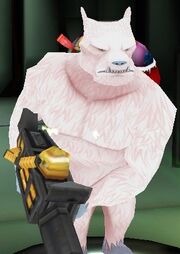 The No More Mr Ice Guy is a skin released annually for the Heavy class. Its first release was in v1.2. Since then, it becomes available from December through to some time around mid January to early February the following year as part of several exclusive Christmas themed holiday skins.
It costs 50 Gas and has no level lock. 
Put this on and go stomp around in front of an exhausted hiker, he'll totally freak! This skin is only for sale through January 1st. Get it while you can!
~ Official Battle Bears Gold description
Appearance
The No More Mr Ice Guy skin features Riggs dressed as white furry bear, most likely a yeti according to the description. His eyes along with his sharp teeth makes him look dangerous. His chest is marked out by his collarbone along with the rest of the body being very muscular. While he's almost completely covered in fur, his hands and feet are all grey and without any added fur. Ironically, this skin makes him look more like a real polar bear than his default skin.
His backpack is a Christmas bag apparently filled with presents.
Trivia
The first release of the No More Mr Ice Guy skin cost 20 Gas.
"No More Mr Ice Guy" is a reference to the popular song No More Mr. Nice Guy by Alice Cooper. Listen to it here: www.youtube.com/watch?v=S0YrXjeRSoE
The description is a reference to the yeti, a fictional ape that lives in the mountains.
The symbol representing the No More Mr Ice Guy skin was changed some time after the skin's first discontinuation to the one currently seen. The original icon looked like this:

Click to enlarge.

It was of identical appearance to the skin's actual face, unlike the new one which has additional textures not seen on the skin. The reason for the change is unknown.
A few hours before the second discontinuation of the skin, the No More Mr Ice Guy skin was offered for 1 Gas.
Originally the skin costed 20 gas.
Community content is available under
CC-BY-SA
unless otherwise noted.