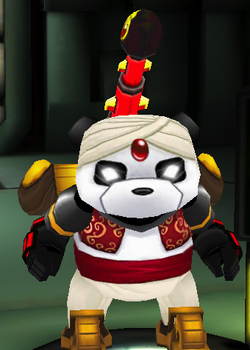 The Pandini is a skin for the Demo, being released during BBR Version 1.3.1.
It costs 15 Gas and has no level lock.
The Great Pandini can't exactly make your enemies disappear, but he can certainly turn them from one big solid piece into a bunch of little squishy ones!
~ Official Battle Bears Gold description
Trivia
Originally, the Pandini skin cost 35,000 Joules until its price was changed along with many other skins in Update 2.1.
There was a special sale in June 2013 in which the Pandini cost 1 Joule.
Community content is available under
CC-BY-SA
unless otherwise noted.