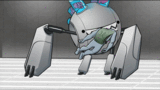 This page is under construction!
This page is under construction and will be updated regularly with new information and content. Feel free to contribute with relevant information.
If you are unsure of where to place your info, or you have an idea that involves major changes, please leave a comment below or ask an admin.
Please expand. What you see above is a .gif image showing a portion of what was going to become the defeat cutscene of the Roboticus battle.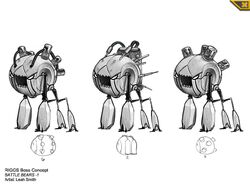 Roboticus is a boss concept in Battle Bears -1 that was close to completion but was held off late in development. Riggs was intended to wear a mech suit that Mecha-Bearzerker wore during the fight.
A concept comic was made as an apology from SkyVu on the blog showing what would have become the cutscenes for the duel. There is one for the introduction, one for the winning cutscene and another for the losing cutscene.
Trivia
Roboticus has Huggables in tubes in him, though it is not known why.