Rockette Launcher



Oliver with the Rockette Launcher

Class

Type

Secondary - Explosives

Level Required

1

Price

110,000 Joules

Explosives

15-30 (additional 10 damage on direct hit)

Area of Effect

Max Dmg: 75
Min Dmg: 150

Rate of Fire

0.5 seconds

Ammo

3

Reload

3.0 seconds

Projectile Speed

1,300 u/s

See:
The Rockette Launcher is a secondary weapon for the Soldier class, being released during the fourth and final week of v1.3.1.
You know, because it shoots those little rocks... you know what they're called, the little ones... the... uh... rockettes?
*Not affiliated with the Radio City Music Hall*
~ Official Battle Bears Gold description
Usage
The Rockette Launcher is a hybrid weapon which shoots very fast projectiles that arc over long distances. They can deal damage either directly, or through a small AoE. Precision aiming is required to overcome the small AoE and the effect of the arc when using this weapon. It is quite unique in the fact that it incorporates both normal and explosive damage. It is believed that the explosive damage comes from direct hits while normal damage is dealt when hit by the weapon's AoE. It has 4 ammo and a very fast 0.3 second rate of fire. Its damage stats vary from a minimum of 10 to a semi-maximum of 20. If shots are a direct hit, an additional 10 damage is dealt to enemies. It has a moderate 4 second reload.
Regardless of whether the projectiles hit an opponent of miss, they will remain intact as a physical object for several seconds, rolling around the floor or remaining completely still. In rare instances, these remaining projectiles have been known to physically push or propel other players, even teammates. Like with all explosive weapons, players using the Rockette Launcher are prone to suicide if not cautious.
Equipment
The following Equipment affects the Rockette Launcher:
Trivia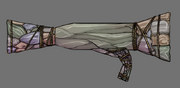 The name "Rockette Launcher" is a pun on "Rocket Launcher", as it shoots rocks in a similar fashion.
Originally, the Rockette Launcher cost 200,000 Joules, then 100,000 Joules, where later the price was increased again to that currently seen.
The Rockette Launcher is the only non-melee weapon to have been made as a third retexture, following after the TNT Launcher from the Bearzooka (BBG).
The Rockette Launcher is one of two weapons that shoots solid projectiles which remain intact after colliding with an object or player. Physics can sometimes cause these projectiles to physically push players, which can be detrimental. The other weapon is the Sucker Punch.
Like all v1.3.1. weapons and skins, the Rockette Launcher was offered to those who took part in the Forum Appreciation promotion, free of charge and before the official release date/week.
This weapon was supposed to get Incoming stats, which were:

Ammo +1: +0 ammo
Ammo +2: +1 ammo
Ammo: 4 ammo
Rate of Fire: 0.3 seconds
Direct hit Damage bonus: 10
Explosions +1: +3 damage
Explosions +2: +6 damage
Explosives: 9-18 damage
Area of Effect

MaxDamageRange: 100 units
MinDamageRange: 200 units

Projectile Speed: 1250 u/s
Reload: 4.5 seconds
Community content is available under
CC-BY-SA
unless otherwise noted.