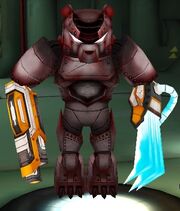 Rusty Devil is a skin for the Assault class in Battle Bears Gold. It features the Assault class with rusty, poorly kept armour. On the red team it will appear dark maroon, while on the blue team it will appear navy blue. It currently costs 200 Gas and has no level lock.
Constructed with iron and oxidized by the indifference of time. This baby can take a lickin' and keep on kickin', butt that is.
~ Official Battle Bears Gold description
Appearance
The Rusty Devil appears as a rusty (oxidised) and worn B-1000. Its metal armour lacks the shine and vibrance is previous versions, though it shows hardiness and malice. The skin is consistent throughout and their is little variation to the rust. There is also little variation to both team versions of the skin, and the only way a player can tell the difference is the slight red or blue tint applied to the rust. It has blank, vacant white eyes. It no longer has the H.I.P symbol on his chest.
Trivia
It was once called "Oxidation Maximum" in beta v2.0.
Community content is available under
CC-BY-SA
unless otherwise noted.