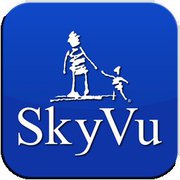 SkyVu Entertainment, previously known as SkyVu Pictures, is the maker of Battle Bears. They are a Omaha-based company which creates some of the most recognizable mobile brands today. With over 20 million app downloads and a portfolio of award-winning mobile games, SkyVu is one of the leading mobile game developers in the world. SkyVu's leading franchise is the Battle Bears series, where their first game Battle Bears: Zombies, made its debut in 2008. SkyVu's founder and current CEO is Benjamin Vu, though most know him as Ben Vu.
SkyVu Entertainment is a very proud supporter of several charities and organizations in a bid for a brighter future.
Residence and location
SkyVu Entertainment  1915 S. 64th Ave.   Omaha, NE 68106  (415) 944-7084

Movie Project

 The Battle Bears Movie was a project that SkyVu was working on. It was going to be the first movie made based on an iPhone game. An early test picture in Battle Bears Backpack shows Oliver and Riggs with some brotherly competition.
However, due to limited resources, this idea was scrapped in December 2011.