Soaker



Class

Type

Primary - Automatic

Level Required

10

Price

60,000 Joules

Damage

5.5

Rate of Fire

0.1 seconds

Ammo

60

Reload

4 seconds

Stat Modifier

+5% Speed

Range

1000 units

See:
The Soaker is a primary weapon for the Soldier class, being one of the original three primaries. It is a close ranged automatic, with overall high damage and medium ammo, along with a long reload and limited range. It is a relatively rounded choice among the Soldier's automatics and sits between the ASR's and HASR's in terms of offensive and defensive capability. The weapon serves as a fast finisher and is effective at quickly depleting the health of stronger classes.
The range is limited compared to other rifles, but it's way more accurate!
~ Official Battle Bears Gold description
Equipment
The following Equipment affects the Soaker:
Weapon Demonstration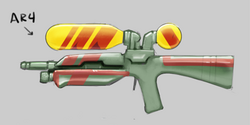 Trivia
It used to have one of the fastest rate of fire out of all the Soldier's primary weapons,tying in with Urine Trouble and Minigun (Soldier) before its stats were reduced.
It was the highest damaging primary(dealing 100 damage per second without the use of damage equipment or Propbearganda)after Urine Trouble before it's stats were reduced.
Community content is available under
CC-BY-SA
unless otherwise noted.