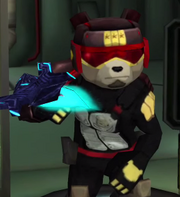 The Stealth Knife is a melee weapon for the Arbiter class in Battle Bears Gold. It deals 85 damage, has a -15% Health decrease and a +15% Movement Speed increase.
It costs 400,000 joules and does not have a level lock.
Salvaged from a stealth bomber, this melee weapon can sometimes strike without even being seen!
~ Official Battle Bears Gold description
Trivia