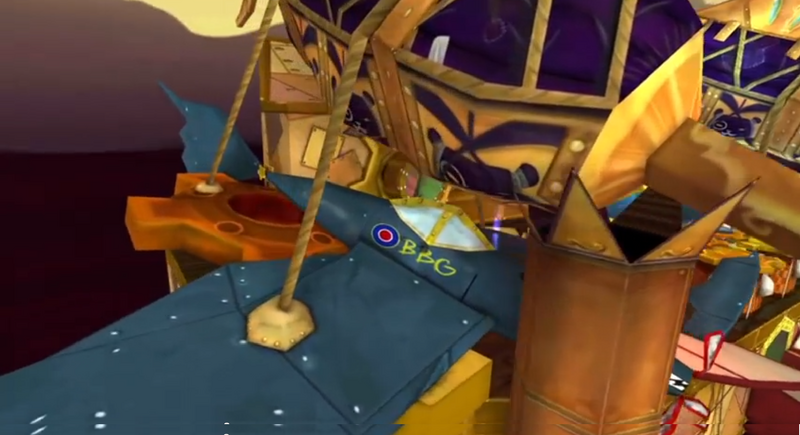 Steam Yard Blues is a map for Battle Bears Gold released in Version 2.8, it was released along with the gamemode King of the Windmill. This map has no interactive features and contains jump pads leading up into a tunnel like structure and onto a deck at the highest part of the map. There are a total of three levels in the map.
First level: A deck accesed through either one of the four jump pads on the ground.
Second level: The largest area of the map, it is the main ground of the map and includes the Imperial Basket Grande, two jump pads leading to the first level, and one of the two Health Packs. There is one plane on each side of the map with a jump pad into the third level each, the tunnel entrances can also be entered with the Turkish SW Boots. There are two slopes on the edge of the map, the two Shields and the last two jump pads for going on the first level are here as well. Just behind the slopes is an entrance into the third level.
Third Level: A tunnel like structure with multiple paths, the other Health Pack is located here.
Pickups
The pickups on the map are found at the following locations:
King of the Windmill
Windmill will spawn at either the middle of the map, or at the lead off of the deck. (Where the Bearscream Sandwich is)
Trivia
There is a ledge beneath the edge on an entire side of the map.
On the deck, you can jump on the gear-like wall and go behind it.