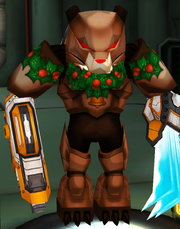 The Sugah Cookehs skin is an exclusive holiday skin for the Assault class in Battle Bears Gold. It costs 120 Gas.
Santa may have met his match. Who knew B-1000 ran on sugar cookies?
~Official Battle Bears Gold description
Appearance
The Sugah Cookehs skin appears as the B-1000 browing color with a wreath painted around his chest. Underneath that wreath is a small bell. His eyes and  the tip of the nose seem to turn red.
Trivia
It is a pun on Sugar Cookies, a type of cookie.