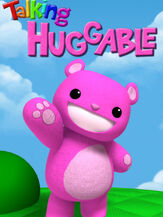 Talking Huggable is an app released by SkyVu Entertainment which was available on iPhone and iPad for a limited time. It is a spin-off of the widely popular app Talking Tom Cat, but features a pink Huggable as the pet instead.
"Talking HUGGABLE is an adorable teddy bear that repeats everything you say in a cute voice. HUGGABLE also responds to your touch and loves to get tickled! HUGGABLE will have you and your family playing and interacting for hours! HOW TO PLAY: Talk to HUGGABLE, and it'll repeat whatever you said in a cute voice! Tickle his face to make him giggle. Tickle his tummy to make him laugh. Poke his head, tummy, or feet. Give HUGGABLE a Hi-Five. Make HUGGABLE fart a rainbow! OMG! Feed your HUGGABLE! Send a customized HUGGABLE postcard to your friends via Facebook or Email. OPTIONS Microphone On/Off button is available. Parents can disable poking & tripping in Settings."
                                                                                                                                  - App Store description
Features
Voice recording: Press the microphone button and talk to Huggable and he will repeat in an adorable voice.
Interaction
Tickle him by his face or stomach to make him giggle.
Touch his head and it will fly off, leaving behind a rainbow trail.
Give him a high five or be a bully and trip him.
Gallery
Trivia
Battle Bears Gold, RainBlow and Talking Huggable are the only games where the Huggable is not a antagonist. Interestingly, both this and RainBlow have been removed from the App Store shortly after their releases, possibly due to lack of interest. Neither have been available since.
When the Huggable's head is removed, a rainbow beam will come out, just like the death animation for Huggables that are shot in the head in the series.