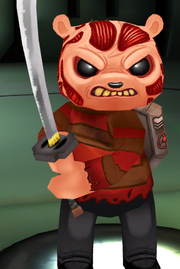 The Teddy Krueger skin is a Halloween themed skin released annually for the Soldier class. Its first release was in v1.3.3. Since then, it becomes available from October 10th through to October 31st as part of several exclusive Halloween themed holiday skins. It costs 50 Gas and has no level lock. 
Haunting dreams has never been so easy! Ride the thin line of copyright infringement and homage us and buy this skin today!
~ Official Battle Bears Gold description
Appearance
The Teddy Krueger skin features Oliver dressed up as the famous 1900s horror movie villain Freddy Krueger, hence the name-play with Teddy rhyming with Freddy. Oliver is suited up in Freddy Krueger's typical clothes consisting of a red and brown striped shirt combined with black pant and black shoes.
The facial details are also based off Freddy's facial details. The face itself has a skinlike color to it, added with Freddy Krueger's characteristic scars all over the head, including a clear view of the skull on the back of the head.
Oliver's backpack is styled as a mechanic machine-like backpack with valves and measurement equipment.
Trivia
This skin was discontinued on October 31st, 2012, and made a return in v2.4 of the next year. 
Gallery
Read more
Community content is available under
CC-BY-SA
unless otherwise noted.