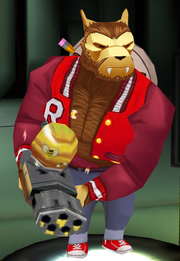 The Teen Wolf is a skin released annually for the Heavy class. Its first release was in v1.3.3. Since then, it becomes available through October as part of several exclusive Halloween-themed holiday skins.
It costs 50 Gas and has no level lock. 
As if puberty wasn't awkward enough, try explaining -these- hairs to your parents!
~ Official Battle Bears Gold description
Appearance
Teen Wolf features Riggs dressed up as the main character, Scott Howard, from the horror comedy "'  Teen Wolf  ". His body is all covered in werewolf fur. He is wearing a typical high school jacket matching the one worn by Scott Howard. The jacket has a red base with bordeaux colored arms, has yellow buttons along the opening, as well as a bordeaux and white neck cover, and a capital "R" printed on the right chest. He wears blue pants with a small cuff at the bottom, and a couple of red snickers with white laces and details.
The backpack shield is made to look like a typical high school students bag. It has a big basketball on the bag as well as the text "#42". On the right side are 4 pencils sticking out, and in the bottom pocket of the bag is a bone. Other than this, the backpack has some zippers and some clasps. The 42 could stand for the uniform number of the first African American baseball player, Jackie Robinson.
Trivia
The name Teen Wolf is an exact reference to the movie and show of the same name.
Gallery
Read more