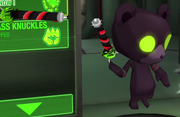 The Tonguechuks are one of the three melee weapons for the Assassin in Battle Bears Gold. It deals 70 damage and comes with a 10% speed increase.
It costs 60 Gas and has a level 5 lock.

These babies can whirl so fast that you can actually see the tongues moving!
~ Official Battle Bears Gold description
Trivia