Toxic Rifle



Class:

Type:

Primary - Poison

Level Required

1

Price

50 Gas

Damage

5.0 per second for 3.0 seconds

Rate of Fire

0.25 seconds

Ammo

15

Reload

4.0 seconds
Toxic Rifle is a primary weapon for the Combat Tech in Battle Bears Gold, being released in the v2.15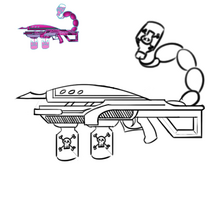 Spray your enemy with toxins that deal poison damage overtime and can stack with each bullet!
~Official Battle Bears Gold description
Usage
The Toxic Rifle is an automatic rifle that inflicts poisoning on targets, dealing constant damage. If a player is hit by the Toxic Rifle more than once, the poison damage will increase depending on how many times the player is hit. However, that damage is little and does not lasts long, which is why it's better to have the target on view and not too far to be able to deal constant damage. When put together with the Combat Tech's secondaries, it can deal high amounts of damage in a little time, being able to weaken or completely kill an enemy with full health.
Equipment
The following Equipment affects the Toxic RIfle:
Community content is available under
CC-BY-SA
unless otherwise noted.