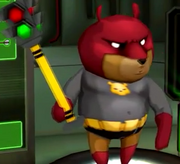 The Traffic Light is a melee weapon for the Chub Scout. It deals 45 damage and has a 12% speed increase.
It costs 200,000 Joules and has no level lock.
Why is there no yellow light you ask? Wil only travels in two modes. He stops and sometimes he has to go.
~ Official Battle Bears Gold description